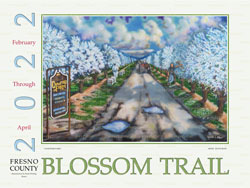 2022 Blossom Trail Poster
The 2021 Blossom Trail poster is still available!
How to recognize the Blossoms you see...


Almond Blossoms
have white petals. Two or more varieties may be planted in the same orchard for cross pollination by bees. Harvesting, usually done mechanically, runs from late Aug. to early Oct.

Plum Blossoms are white. At least two varieties will be planted in an orchard for cross pollination. Over 200 varieties are grown commercially. Harvested in June to late September.

Apricot Blossoms have white petals, sometimes with hints of pink. Fewer than 12 varieties are grown commercially. Harvest season lasts two to three weeks during mid to late May.

Peach and Nectarine Blossoms feature pink to red petals and bloom at the same time. Over 100 varieties are grown commercially. Harvest runs mid-May to October.

Apple Blossoms have white petals. Up to six varieties are grown commercially in Fresno County. Harvest is Aug. to Nov.

Citrus Blossoms are white with a most aromatic fragrance. Navel and Valencia oranges, Mandarins, and lemons, are the most common citrus grown locally. Mandarin trees are frequently covered with a fine mesh to prevent bees from pollinating the flowers, which would cause the fruit to form seeds.
About
The 2023 Blossom Trail season has started!
Orchards along the Blossom Trail are private property, not open to public access. Visitors can view and photograph the blossoms safely from the shoulder of the road. Make sure all vehicles are pulled completely off of the road.
Respect the beauty of the trail and please don't litter. Dogs are discouraged, but must remain on a leash. Many orchards are patrolled by farm dogs.
Blossom viewing is typically mid-February to mid-March. We will provide website and Twitter updates on weather and blossom conditions. Be sure to click on the Stay Updated link in the upper middle of the page or follow us on Twitter for 2023 updates.
Visit www.GoFruitTrail.com and @GoFruitTrail on Twitter to learn about the fresh fruit available on the Fresno County Fruit Trail when the fruit and nuts begin harvesting (strawberries will start in April).
Events
We anticipate most of the regular Blossom Trail community events to resume as normal this year, but many have not been confirmed. We will post 2023 information as we get it.

Blossom Trail Opening Ceremony
February 10, 2023 at 10:00am
Hosted by the City of Reedley, Reedley Chamber of Commerce, and Reedley College.


Blossom Trail Bus Tours (with wine tasting)
Saturday, February 26 and Sunday, February 27, 2022- Sanger, CA


33nd Annual Kings River Blossom Bike Ride - Saturday, March 4, 2023 - Reedley, CA

25th Annual Blossom Trail 10K Run - Saturday, March 5, 2022 - Sanger, CA

Blossom Trail Festival and Car Show - Saturday, March 11, 2023 - Sanger, CA

Fields of Fresno Ag Tour - Blossom Trail - Saturday, February 25, 2023 and Saturday, April 29, 2023

Blossom Trail Train - Saturdays & Sundays, March 4 & 5, March 11 & 12, and March 18 & 19, 2023 - Reedley, CA

Blossom Trail Art at the Fair
(Fine Arts Exhibit)
October 2023
- Big Fresno Fair

For more information contact:
Fresno County Office of Tourism
Phone:
559.600.4271
Website:
www.gofresnocounty.com
Email:
tourism@co.fresno.ca.us
Click Here for More Stops Along the Blossom Trail